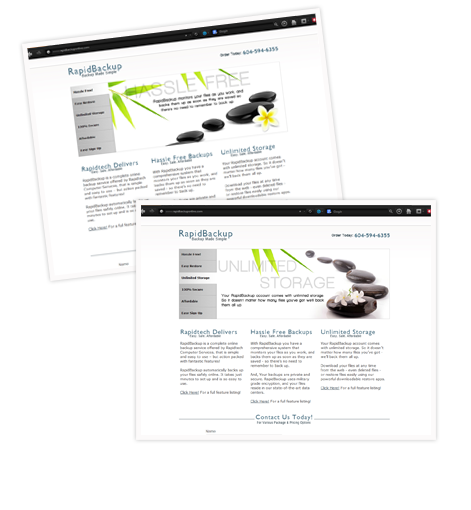 What Is Rapid Backup?
RapidBackup is a complete online backup service offered by Rapidtech Computer Services, that is simple and easy to use – but action packed with fantastic features! RapidBackup automatically backs up your files safely online. It takes just minutes to set up and is so easy to use.



Hassle Free Backups
With RapidBackup you have a comprehensive system that monitors your files as you work, and backs them up as soon as they are saved - so there's no need to remember to back up. And, Your backups are private and secure. RapidBackup uses military grade encryption, and your files reside in our state-of-the-art data centers.



Unlimited Storage
Your RapidBackup account comes with unlimited storage. So it doesn't matter how many files you've got - we'll back them all up. Download your files at any time from the web - even deleted files - or restore files easily using our powerful downloadable restore apps.

Find Out More! >>